Inez L is a versatile, bi-lingual artist who is making a name for herself in the music industry. In a challenging year for musicians, she continues to chug ahead and forge a path for herself.
As we now start to close out the year we caught up with Inez to talk with her about her upcoming releases, her journey in music, and what you should be checking out to get familiar with her and her sound.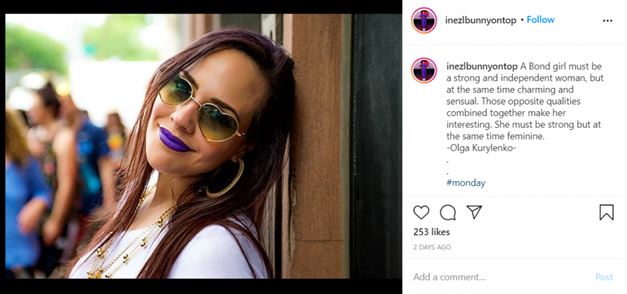 Inez prides herself on standing out as a bi-lingual artist who delivers a jaw-dropping sound both in English and Spanish. With our eye on the future, we asked her what she currently had in the works.
"I am releasing an English EP and also a Spanish EP in the genre of Cumbia."
Following in some of the language cross over greats, being able to deliver and reach audiences in two languages is always a good way to expand your audience and reach.
While having business aspirations is a positive career choice, we know it's not what an artist is inspired by or where they usually get their beginnings from. Inez is an artist is in love with it all. She cites loving music, performance, and the passion of it all as the reasons that she got into music.
More importantly, this love and passion are so tangible that you can hear it in her songs. Her songs range in both sound and style, but those emotions and passions are always on display.
In one of her more popular Spotify tracks, "Breaking Walls", Inez delivers a powerful performance centered around breaking down the walls of a guarded love interest. She delivers beautiful melodies on the pop verses and showcases her versatility with the hip hop/dance influenced bridges.
On the topic of versatility, when we asked what separates her from other artists, that was the first thing she brought up.
"I'd say my versatility. I speak both English and Spanish and I record in both languages. Also, my drive into putting in the actual WORK as an indie artist. "
On the second half of that thought, we wanted to know more about what inspires her drive and her music. So, we asked her about her influences.
"Hard to say what influences my music, because it's me that really influences my music. But, I will say the two big inspirations are Alicia Keys and the late singer Selena."
And on what inspires her when she writes, she had this to say.
Anything and everything. I could be in the shower and the bottle of shampoo may give me an idea [laughter]."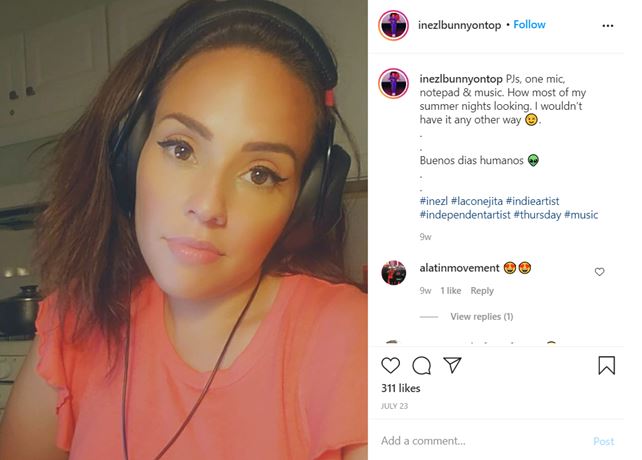 Art comes in many forms, but being influenced by yourself, and finding the art in the moments of every day life are both gifts, and ones that Inez clearly has.
With a growing popularity with her music, a drive to be great, and new music on the way, we wanted to know what her future goals were.
"I want to build a lucrative career in the music business as an artist. After a few years of working as a performer, I want to get into artist management and development."
There's that drive again. And it really is part of what makes her and her music so special. Her talent and relentless drive to show herself to the world while creating quality music is something that you have to admire.
When we talked to her about the current challenges of being a musician she told us just how much she misses performing. That love of performance, the music, and the process, shines through in her music and resonates with her fans.
As we mentioned, she will have some new music dropping soon. Check out the links below to follow Inez and stay up to date on all of her new releases.
Hennah Whiteman is author, social media and content marketing.  She is author of number of books and sold 6 books until now. She has a experience of more than 5 years. But now she is working with Entertainment Paper website as a article editor. She has lots of contents to publish on website.
Topics
#Inez L