Winning a beauty pageant is a dream for many models. It requires constant hard struggle to maintain body physique by dieting as well as also focusing on intelligence and other qualities. A model contesting in a beauty pageant has to be attractive as well as intelligent. A beauty pageant is a competition that has traditionally focused on judging and ranking the physical attributes of the contestants. Beauty means the quality or aggregate of qualities in a person or thing that gives pleasure to the senses or pleasurably exalts the mind or spirit.
There are thousands of models who have beautiful face and body, but lack other qualities required to win beauty pageant. However, Joanna Borov is an internationally recognized model and influencer currently living in California, United States Of America who posses all the qualities of a successful model, and has won two beauty pageants. She admits that she started to become popular after winning a beauty pageant associated with Grand Prix, Miss Motors Formula 1.
Joanna Borov represented Poland in World Beauty Queen. She was also offered to be a judge of an international beauty pageant in Argentina, which she accepted. According to Joanna Borov, the reason for accepting the offer to be the judge of a beauty pageant was her love for the pageant world. It requires prior experience to become a pageant judge. Pageants have now evolved to include inner beauty, with criteria covering judging of personality, intelligence, talent, character, and charitable involvement, through private interviews with judges and answers to public on-stage questions.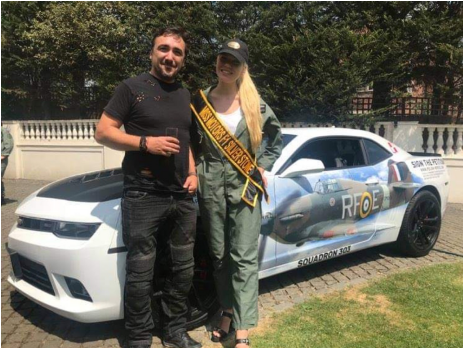 Recently, she was a judge in Miss Poland, United Kingdom and Miss Poland Teen, Ireland. She was unable to travel to the UK, but she judged via video which was broadcasted at the venue. The winner Sandra Salamon will participate in Miss Poland. Miss Poland, UK had been organized for many years by Pawel Majewski because there is a huge Polish community living in the UK. She has also been featured on famous magazines like Marie Claire, British Vogue, L'Officiel, Elegant, and she was also on the cover of Playboy Magazine, Ukraine.
Apart from modeling, Joanna Borov loves fashion designing, and is going to launch her line named as Jo Borov. She supports many charities including animal charities. She is also going to launch her book about dieting soon. She is very active on social media having 73K followers and fans whom she connects on Instagram. Joanna Borov also hosted Babes In Toyland, Hollywood where she appeared in beautiful dress which she designed herself. She is inspiration for many people who follow her and like every update and photos of her. No doubt she is one of the successful model of our time.
Topics
#Joanna Borov
#Pageant Judge
#Pageant Winner
#World Beauty Queen