Artist, Blogger, Influencer and personal trainer of Calisthenics, the discipline that promotes training outside. To date, the influencer Simone Etere born in Sansepolcro in Tuscany, and now living in Umbria, is an Instagram phenomenon, followed by over 1.1 million people.
He has southern origins (Campania and Calabria) of which he is proud, 1.83 tall, weighs 79kg, has green eyes and brown hair, a beautiful image to promote his lifestyle.
"He has a large tattoo that covers his entire back, specifically a cross, which represents what he believes in."
Simone Etere has many values, one of the greatest is the faith that he brings to his path and puts into everything he does.
For him, gratitude for God is the basis of everything, without gratitude there is no visual, from this he draws strength for his plans, in fact his Instagram name "s17ne" in addition to meaning the name and date of birth, conceals one close relationship with God. Since 7 are the gifts of the Holy Spirit and 10 are the Commandments.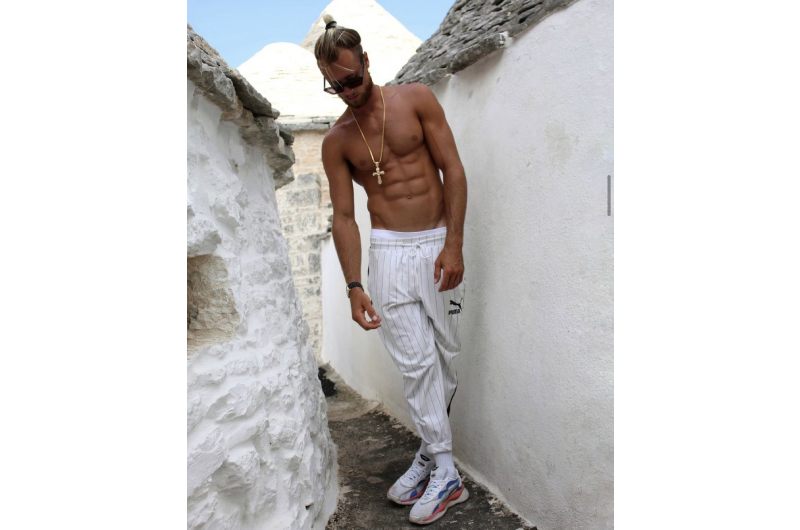 Simone is passionate about sports, in fact since he was a child he has practiced many sports, for example football, swimming, tennis, rock climbing, parkour, mixed martial arts and many others!
Today he loves discovering new places and bringing his passion into his worldwide collaborations.
Thanks to his determination and great ambition, he has been called to collaborate with many brands, wearing and advertising their garments, including the well-known sports brand Puma, AmTourister, Chimieyewear and more recently the magnificent brand Gillette.
Another interest of the influencer is to advertise resorts and hotels internationally.
For example, recently despite the pandemic he was called to the Papadopoli hotel in Venice and the ArgentarioGolf & Resort resort in Porto Ercole, a place dear to TV stars.
Thanks to his experience, the athlete was the first to establish and make possible some types of movements, for example he managed to achieve an extreme coupling with the sole force of the neck/nape, remaining hooked to the bar, as well as a symbol of its uniqueness. Now it is a source of inspiration for many throughout the territory.
During the week, he trains every day except the weekend, he does not follow a specific type of diet but is still concerned with nutrition and recovery.
He teaches in various gyms in Umbria region, but not only. In these months of social distancing, he has made his teachings and workouts available on his website, in order to be followed even by those who are far away.
Simone Etere founded his team called Oversthenics which means over calisthenics, over everything, "because for the athlete you must always go further, to improve"!
Topics
#athlete
#followers on Instagram
#lifestyle
#Simone Etere
#thousands of followers