Calvin Hill has been making music and perfecting his sound for nearly a decade now. His newest offering is a brand new EP titled 'Misguided', and it is set to open up a whole new world of opportunities for him. With over 3,000 monthly listeners and new music on the way, the end of 2021 looks to be shaping up well for Calvin.
With everything going on in his career, we thought it was a good time to take a few minutes to catch up with him and learn more about the release, his story, and what lies ahead for him. Personally, we are fans of the soulful sincerity that his music brings but we wanted to learn more and help share his sound with more music fans because it deserves to be heard.
As is tradition, we will start by reviewing the early days and learn more about how Calvin got here and what drives him musically. We asked him about how he got his start in music, and here is what he told us.
"I got started in music at the age of 12. It was a group of friends and I that started a rap group called Decree of Christ. We started off writing our songs while in class and recording the songs and music videos on our phones. We would place the videos on youtube and typically get 100+ views on Youtube. Thinking we would be the next big thing we held a newfound confidence. It was the greatest feeling in the world until we realized that they weren't supporting us because of our talent but to laugh at us and pick on us. The group did not end up lasting long with several of the members disbanding only 6 months after it's inception.
As the group's leader, at the early age of 12, I knew that it would take years to break into the music industry but I refused to quit. I grew a love for hip-hop and in 2016 decided that music is what I wanted to pursue professionally. As I was applying for colleges, I stumbled across Johnson C. Smith University and decided that I would pursue a degree in Business Administration. While a freshman, I turned my room into a fully furnished recording studio and opened it up, and charged people to record. Between 2017 and 2018 I recorded some of my most renowned songs including 'Nothing Else' and 'Cameras'. I also recorded my recently released project Misguided in 2018."
This long committed road through the music industry has given him a ton of experience to continue to build off of. His story involves being an artist with a higher message and an artist that crosses over in different genres. We asked him which song best represents his sound on the whole, and here was his response.
"The recent songs that best describe my sound are 'Still' and 'Across the World'. In 2016, I realized my love for RnB and my niche in hip-hop when I wrote my well-received song 'Unconditional Love'. I developed a love for intricately blending hip-hop with RnB vocals and infusing it with a gospel message."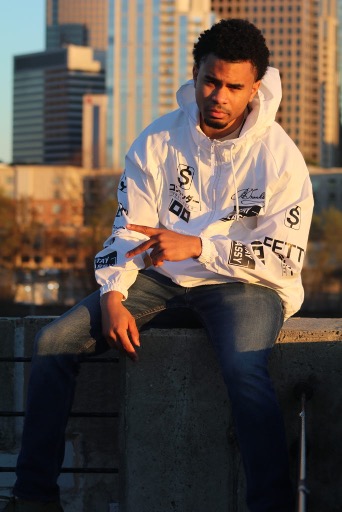 Calvin has spent his life around music and following his calling. That is evident in the new album 'Misguided' and it gives the album a lot of depth and meaning to it. Here's what Calvin had to say about the album.
"Although he wrote Misguided before his fatal life-changing car accident, it only made sense to theme his biggest project around it. While only twenty-three years old, North Carolina's Calvin Hill has already found his life purpose through music. As a child, Calvin's parents instilled traditional, scriptural values into him, using their faith to guide the course of his life. In 2010, Calvin felt the call to begin his ministry. Utilizing hip-hop as a medium to reach the community, Calvin began to refine his sound and focus on becoming a herald for positive values and altruistic actions.
With two mix-tapes released so far, Calvin's music commonly blends contemporary hip-hop sounds with topics such as poverty, pride, mental health, and God. He brings all of these elements together with the hope of inspiring. His latest release and debut EP, 'Misguided' is another driven project of gospel messages and unique intricate songs, culminating in a six-track mix that vividly portrays his vision.
A thoroughly modern release, 'Misguided' holds all the trademarks of modern hip-hop, bringing polished beats, RnB vocals, visceral rapping, and smooth baselines that flow behind a cascade of inviting melodies and attention-grabbing hooks. Musically, it's not the most original or unique of releases, with several of the tracks, like 'Never, Never' and 'GOTW', and 'Get Out The Way', for example, arriving with very familiar sounds. What makes Misguided stand out amongst other hip-hop projects is the depth of my passion and lyrics, preaching to the choir with a confidence that just can't be denied."
We checked out 'Misguided' for ourselves, and we agree with a lot of what Calvin had to say. The passion, soul, and heart behind the tracks on this EP are evident. They are well crafted and catchy and they deliver on the message that he's looking to spread. We also agreed with his comment earlier on about 'Still' and 'Across the World' being stand-out songs, but honestly, all six tracks on the EP are fantastic.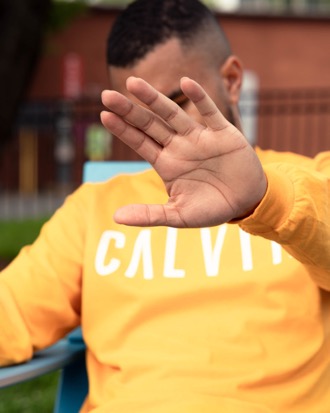 'Misguided' should serve as a strong springboard for the next steps in his career. With that in mind, we asked Calvin what was next for him.
"What's next for me is to continue creating amazing content whether it be music videos, social media posts, or appealing media to keep my supporters engaged. Other than that, it's all in God's hand."
With what we've seen so far, we're excited to see what that content is. Before we let him go, we asked Calvin why people should check out his music.
"Because it's amazing! [Laughing] Nah, all jokes aside though, I believe that my music can benefit everyone who gives it an opportunity. I have songs that can benefit anyone, in every walk of life. Whether they're going through hard times, battling with substance abuse, or need some hype music to turn up to. Though I am an unashamed Christian, my music isn't explicitly 'Praise God, love Jesus' music. Basically, don't expect a sermon in my songs. I'm an authentic hip-hop artist, who's not afraid to speak about my flaws and problems while boasting about a God who has brought me out of it. Hopefully, that sums it up in a way all can understand why I feel like people should check out my music.
It does Calvin, well said. You can check out and follow along with all of his content with these links.
Topics
#Calvin Hill