How did you get started as a model?
A certified personal trainer who starts competing back in 2019 on bikini shows and from their doors opened for me as a model too. To be honest I was dreaming about modeling since I was a child, I think is every little girl dream.
What fitness or bikini competitions did you participate in? What was your most successful competition?
As many of you that follow me, already know that I am familiar with the stage and have done shows &modelling shows in the past and even got my Pro Card at Fitness Universe Weekend in June 2022 at the World Championship in Miami. Back in 2020 first runner up on Fit category on Miss Fashion Global held in Destin Florida and in 2021 2-nd runner up in Miss Bikini US where I was proudly representing my country, and I get the chance to meet some amazing people during this shows and to create nice connections, but we get to that later on.
What is your favorite part of being a model?
Amazing chance to Travel a lot, meet new people from Around the world and create connection and lasting friendship is the best part of being a model. See the world with different eyes and evolve as a spirit.
Where are you from and where is your home base now?
I was born and raised in Romania and now living in the USA.
We heard you will be in Canada next! What are your plans there so far?
Yes, I am excited to be in Canada, another country on my bucket list that I am going to see. I am planning on modeling for Fashion Art Toronto and of course to see the Niagara Falls, since I heard is the better side to see it.
Your Instagram includes beautiful photos and reels of your travel around the world. Where were your favorite locations to travel to? What do you recommend people check out if they go here as well?
Thank you! To be honest I got very impressed by Mexico one of my recent travels, actually in Tulum they have a spiritual museum called Mystika, definitely add it on your to do list if you are around. Another country that stole my soul is Jordan, if you guys get a chance to go there, please take the time to camp one night in a luxurious tent in Wadi Rum, is a mind-blowing experience.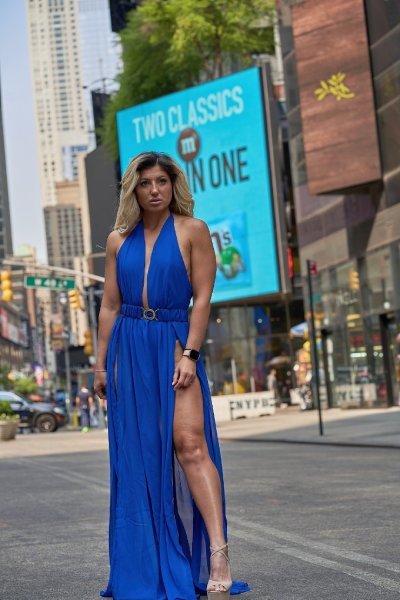 Your Instagram is also full of magazine covers, features, and billboards. Can you name a few?
Aww thank you so much. Billboard in Times Square for a Style Cruze Cover, Playboy Australia, L'Officiel India, Moll Magazine South Africa, and many more.
How do you prepare for a photoshoot?
Actually, I don't prepare that much since I am always prepared and the most outstanding pictures, they are taken behind the scenes
Do you prefer fashion or glamour modelling?
I am flipping between fashion and bikini modeling.
What are your hobbies and passions outside of modelling?
Now you may wonder what are my hobbies… I got to tell u that I love to travel around the world, so if you ever Christmas shopping for me I am a size window in a plane (laughs). Of course, working out counts as my hobby, right? I love food too, but not when I am on a diet, that's when you actually see the monster out of me!
Anything else you'd like to add?
Thank you so much for the opportunity of being published in this fast-growing magazine and that I have the chance to collaborate with you guys, beyond excited about this experience
Credits:
Photographer: Barry Freeman
Hair : Daniela Hanu
MUA: Elena MIHALACHE
Location: Times Square New York
Public relations: Lenola PR
Topics
#ActivePanda
#Fitness
#Former Fitness Champion
#Lavinia Palanite
#model