The super funny Covid-19 R&B playlist by R-Cue is going viral on Facebook and is what everyone's talking about, and probably, what most of you need at the moment.
Covid-19 and the whole quarantine thing has at first got all of us worried and now bored to the bone. Getting stuck inside your own home is nothing less than a house arrest. And it's just not fair. You could be having the time of your life! 
(Damn you corona!)
But, that's how the coronavirus situation is at the moment.
The good news – we have got you covered!
We have the funniest set of tracks that you can play and listen to during this coronavirus outbreak and make self-quarantine entertaining.
Yes, it's time to rock that volume button and get the party started!
(We mean party with yourself, or whatever..)
The Viral Facebook Post
Yup, the viral Facebook post.
So, R-Cue, a DJ/Producer from Melbourne, Australia created an R&B playlist and posted it on one of the biggest social media networks on the planet, Facebook.
It's just been a few days since he posted the spotify link to the playlist on his timeline, and the post has gone rogue!
People are talking about how funny the playlist is and how it is helping them cope with the quarantine and complete lockdown.
The post has got hundreds of people commenting and telling how they can relate to the tracks and is being shared all around the Internet. This is huge!
The Tracks on The Covid-19 Playlist
Believe it or not, these are some of the funniest tracks you will find now around the Covid-19 situation.
It's funny because the tracks were not produced for the outbreak. But now, when R-Cue has put them together in a playlist, the tracks make so much sense!
Let us list down some of the tracks from the playlist so you get the idea –
Die Young – Roddy Ricch
Sicko Mode – Travis Scott
I feel it Coming – The Weeknd, Daft Punk
Made in China – Higher Brothers, DJ Snake
Mask Off – Future
Paranoid – Ty Dolla $ign, B.o.B
Take Care – Drake, Rihanna
Work from Home – Fifth Harmony, Ty Dolla $ign
Fine China – Chris Brown
Give it to Me – R-Cue, Melissa Kate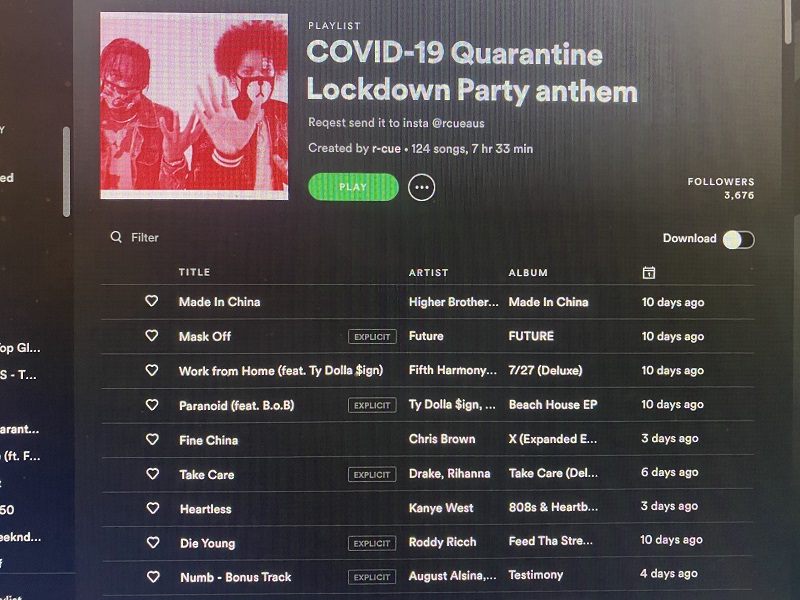 You get the drift?
These are some of the most popular songs out there and have even ranked on many countries top 10 playlist for a long time.
R-Cue has taken his time to bring the best and create a funny R&B playlist dedicated to Covid-19 and he has just started!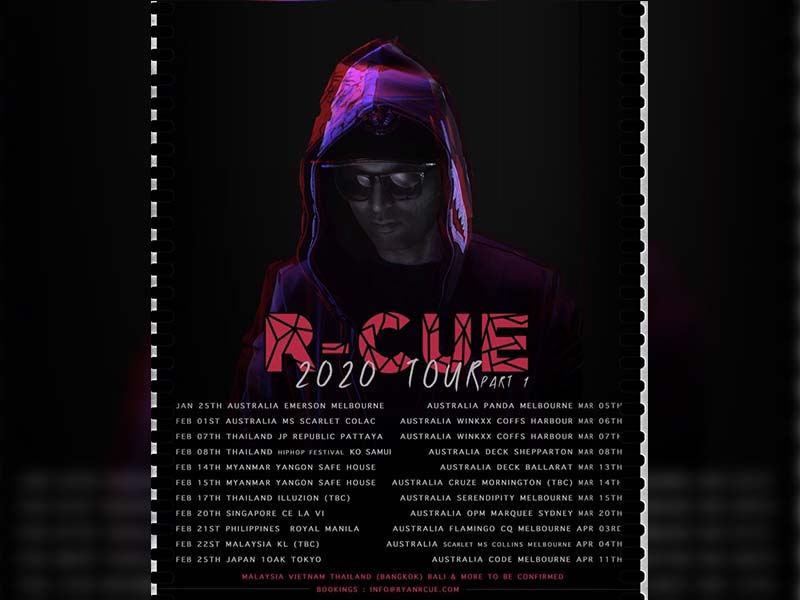 Who's R-Cue anyway?
You do want to know about the guy who created the playlist, right?
He's a genius who is known for his rad music compositions. R-Cue is from Melbourne, Australia and is one of the top Open Format artists and producers out there.
He has a unique ability to play Hip Hop and R&B and recently did a successful tour around 8 countries. Many of his EDM compositions have really made him stand out from the rest.
The funny Covid-19 playlist also has singles R-Cue just released like Dirty Wine, Give it to Me, Easy on Me which will make you pump up the base and move to the beats.
Social Media Post Copy –
The super funny Covid-19 playlist by R-Cue is going viral on Facebook and is what you need at the moment. Read now to know more!
Paulina Rice is a housewife as well as author. She's the wife of a rock star, and the mother of two young adults, but she's also been a ballerina, a typographer, a film composer, a piano player, a singer in an all-girl rock band, and a voice in those violent video games you won't let your kids play. She does her best writing on entertainment such as movies.
Topics
#Best Spotify Quarantine Urban Playlists
#Covid-19 playlist
#COVID-19 quarantine party
#R-CUE