J. Hustles is a rising independent artist with strong family ties to the music industry. As an artist himself, he is well on his way to 2,000 monthly listeners on Spotify which is just the beginning for him and his grand plans for his career. Recently, the blossoming emcee released his latest single, 'Grey Skies', and it will surpass 10,000 streams on Spotify any day now.
With his growing following and the release of this new fantastic single, we took some time to catch up with him. We took the time to check out 'Grey Skies' and to learn more about J's past, present, and goals for the future. In the end, we came away impressed by his story and in love with his approach to his art.
We'll get to the new song and what's next in a minute, but for now, let's start off with his story and how he got here in the first place.
As we mentioned earlier, J. Hustle's family is a music one. So, when we asked him about how he got started in the industry it was no surprise that he referenced this point.
"I was born in a music loving house. My Dad was an extremely talented singer song writer with a ridiculous knowledge of all things music. My Step Father was an accomplished musician, an electric violinist in some really big bands before he would eventually die of complications from AIDS due to intravenous drug use. Music was never not a thing in my house, from The Beatles, to The Rolling Stones, to BB King, to EWAF, to Waylon Jennings, etc. I listened to literally anything I could and then when I first really listened to Hip Hop as a kid I knew that was exactly what I was gonna do, it wasn't even a question. I had no idea how long it would take and the hard work that was necessary but I knew I would eventually get there."
That intimate relationship with music from an early age combined with his diversified influence list has helped J build his foundation and become the artist that he is today. While we are here to talk about 'Grey Skies' and his future, we wanted to talk to him about potentially any other important songs in his catalog.
When we asked him about what song he was most proud of to date, here is what he told us.
"In my entire catalog the song that I'm most proud of would probably be 'My Way Home' off my second album 'PREPARANOIA'. It was produced by Jay Plot Productions and although it wasn't my first song to get radio play or a tv/film placement, it was the song that made it into rotation at Shade45 and that was huge for me. It also really touches on some mental health issues that I previously wouldn't have let people hear in a song."
That vulnerability and authenticity both shine through on this track and we agree that it's certainly one of his best releases to date, if not the best. With that said, 'Grey Skies' is absolutely in the running for the best that he's released, so let's turn our attention to it now.
'Grey Skies'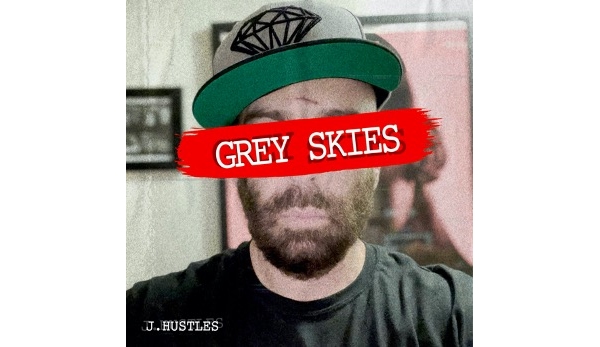 'Grey Skies' kicks off with a simple guitar riff and then J lays the hook on top of it before the beat kicks in. The song is a classic story about relationship troubles and the idea of one person moving on while the other is desperately trying to grasp on to what they once had. The song is somber and the emotions and thoughts encapsulated are ones that we've all felt in one way or another.
The production is on point, the melody is beautiful, and J perfectly delivers on the narrative in the song. Looking at it in its entirety, the song is one of the best songs in the game right now.
We asked him to tell us about it and its meaning.
"Grey Skies is a dark look at a relationship that has been over but the other person involved refuses to change or accept that the relationship can't be repaired. It's a Dear Jane/John letter basically. Nobody goes outside on a grey gloomy day and feels amazing, and in this case the broken relationship is that Grey gloomy day."
Our analysis and his message behind the song couldn't be more in sync. The content is relatable and the song is a great representation of why you should be listening to it as well as him as an artist. That's our two cents anyways. Here's why J. Hustles thinks you should be listening to him.
"I feel my music is honest. Yes, I'm a rapper and rappers talk shit, brag, floss & beef or whatever, and I'm no different. But, intertwined between all that I have a lot to say and a lot to share. I have music that will make you cry, music that will make you shake your ass ,and everything in between. I've lived extreme highs and soul shattering lows that I try to sprinkle in every project and I really truly believe people will enjoy it."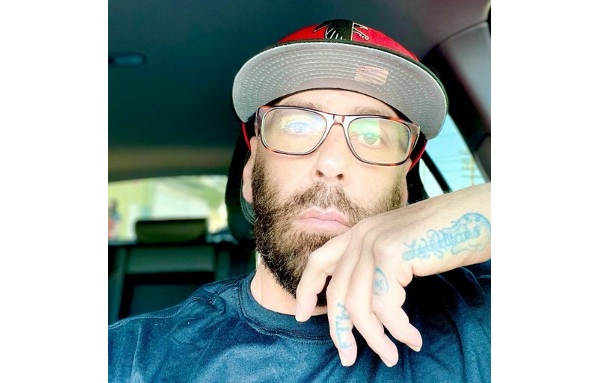 We couldn't have put it better ourselves. J does a great job of sharing real joys, trials, and tribulations that are all a part of the human experience. We love an introspective artist that puts their life out there on display in the name of art, and that's what he does with each release.
J is going about building his career the right way by putting together a track record of quality music and connecting with his audience. We believe that he has a bright future in the industry so we asked him what his long-term goals looked like.
"I have many goals in music. I would love to be an arena performing, chart topping, award winning artist. I mean, who wouldn't? But that being said, my biggest fear is death without contribution. When I die I want to know that my music meant something. That I was more than a blip on the internet, that my music made people feel something or anything for that matter. I also mentor a young rapper named drug$onwar and I would really like what I've gone through in this industry to help him hit those highs way faster than I did. If you're not giving back in this industry, in my opinion, it meant nothing."
Artists by nature are usually driven by leaving something behind and that clearly drives J. Hustles. The mentor relationship he's also developed is a sign of an artist and a human being that just truly gets it. In the process, we all became huge fans of his and we encourage you to keep up with him by following the links below.
Topics
#independent artist
#J. Hustles
#Music